The Canvas Production Process
---
So we've prepared your image for print. To do this we use a combination of Photoshop and Perfect Resize. We use a special tool to apply a gallery wrap to the image. This ensures none of your image is lost around the back of the frame at the canvas wrapping stage. Whilst the canvas is printing from one of our Epson wide format printers we get straight to work.
We ensure each stretcher bar is attached squarely and securely firstly by using a framing square and then finishing with a staple.
After we have collected your print from the printer we have to align and cut the canvas so it wraps correctly around the frame.
The canvas print is now ready for framing.
Aligning the print on to the pencilled placement marks.
We will then begin folding the print over the frame, holding tight and then placing a staple to secure the print to the frame. We place a staple approximately every two inches.
We always take extra care when stapling the corners of your print.
Now your canvas print is almost ready. Just a little bit of tyding up. Firstly we cut the excess canvas off of the print.
We'll then cover the staples with a brown protective tape to cover up the unsightly staple heads and drill in the hanging equipment.
We insert corner wedges (sometimes called 'canvas keys') into the mitered corners. This is to maintain the correct taut of the canvas. Remember a quality canvas print should beat like a drum. Please don't literally beat your picture like a drum, lightly tapping your fingers will do! So your walls are not marked we also add two 'bumper stickers' to the bottom corners as a final touch.
Now just to add the string and finish off with our supplied by sticker.
We can also sell your print unframed. For you to frame yourself or purely for sample purposes. An unframed print is discounted by 25%. You can also purchase an unframed sample for £2.99. These are A5 sized and help you to gauge the colours and texture of a particular picture.
---
How Your Prints Are Finished & Packed..
We dedicate extra time and finance to your packaging process. We manufacture our own delivery boxes and have employed several unique to the industry methods of ensuring ultimate protection in the transit of your artwork.
The front of your picture is completely sheathed in 18GSM acid free tissue paper. We are well aware of how easy it is to mark a canvas, even with the most cautious attention. This is also why our framers always wear 100% cotton, clean white lining gloves before the stretch and wrap stage.
We place plastic protectors or cardboard buffers on each corner of your canvas. We believe the corners of a framed canvas print is often a good indicator on the quality of the framers workmanship - just check out our corners compared to that of the many mass produced items you see on the high street!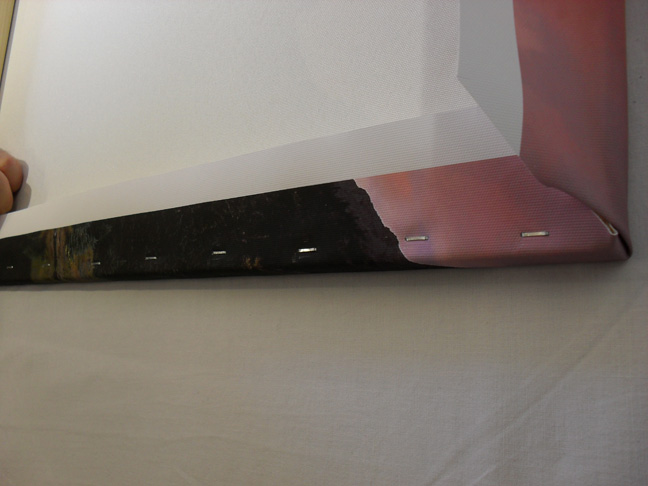 All of our canvas pictures are Ready To Hang straight from the box!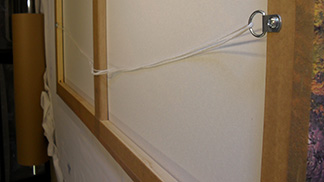 Your invoice will always be attached to your order and if you're lucky a discount coupon as a reward for your custom! IF your canvas order is a gift why not personalise it? Just let us know if you would like a message added and we'll pop a note in for you!
---
Delivery Of Your Canvas
We will dispatch all orders within 24-48 hours. In exceptionally busy periods please allow a futher 24 hours. All canvas orders under 16 inches wide will be sent Royal Mail First Class Recorded. All canvas orders over 16 inches wide will be sent Parcelforce 48. Both services should arrive within 48 hours of dispatch and will require a signature from the recipient. Both services are tracked and a tracking number will be added to your order upon dispatch,
Please note once your item is dispatched it is under the care of Royal Mail and sometimes delays do occur. We have insurance up to £500 should your item go missing. Please see below for information on returns.
Returning Your Canvas
In the unlikely event you are unhappy with your canvas print, please contact us as soon as possible. We are happy to issue a full refund or replace your canvas print should you contact us within 14 days of receipt. We will only do so when we receive the purchased canvas back.
In the event of your canvas being damaged in transit, please inform us within 24 hours. We will ask for photographic evidence. If the canvas is damaged we can make a claim with our courier. We will then either send you a replacement or issue you a full refund, whichever you prefer.
---
As they become more popular you may notice more & more 'Canvas Prints' in many big name retail outlets. There is, and always will be, a marked difference in quality with these mass produced items. Dismal picture quality, poor craftsmanship and a limited life span, when it comes to art you get what you pay for!